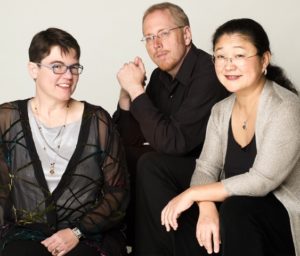 The Bertamo Trio (Letitia Berlin, recorder; Yuko Tanaka, harpsichord; and David Morris, viola da gamba) is a San Francisco Bay Area-based early music group that brings the music of the Baroque to today's audiences with professional polish, verve, and precision.
Letitia Berlin, recorder, is also a member of the Farallon Recorder Quartet and Calextone. She directs and teaches at early music workshops around the country. Ms. Berlin has performed with the San Francisco Symphony, the Carmel Bach Festival and the Atlanta Baroque Orchestra as well as other ensembles. Recordings include Ladino love songs with Yatan Atan on the New Albion label and two CDs with Farallon. Ms. Berlin received a Master of Arts in early music performance practices from Case Western Reserve University and a Bachelor of Music in piano performance from the University of North Carolina at Greensboro. Her mentors and teachers include Inga Morgan, Ross Duffin, Carol Marsh, Marion Verbruggen and Paul Leenhouts.
David Morris, viola da gamba, is also a member of The King's Noyse, the Galax Quartet, Quicksilver and the New York State Baroque Ensemble.  He has performed with Tafelmusik, The Boston Symphony Orchestra, The Boston Early Music Festival Orchestra, American Bach Soloists, Philharmonia Baroque Orchestra, Musica Pacifica and the Mark Morris Dance Company.  Mr. Morris has been a guest instructor in early music performance practice at UC Berkeley, UC Santa Cruz, the San Francisco Conservatory of Music, Mills College, Cornell University and Oberlin College. He has recorded for Harmonia Mundi, New Albion, Dorian, New World Records, Drag City Records, CBC/ Radio-Canada and New Line Cinema.
A native of Tokyo, Japan, Yuko Tanaka is active as a harpsichord soloist and ensemble performer. She performs with numerous ensembles including Musica Pacifica, Music of the Spheres, Archetti, Ensemble Montichiari, Philharmonia Baroque Chamber Players, Moscow Chamber Orchestra, and American Bach Soloists. She has appeared with the San Francisco Symphony and the San Francisco Ballet Orchestra. She maintains a private studio, conducts master classes, and appears as guest lecturer at various universities. Recent engagements include performances at the Carmel Bach Festival, Frick Collection (New York), Tage Alter Musik Regensburg (Germany) and the Istanbul International Music Festival. She holds a doctorate from Stanford University.
Bertamo Trio is a fiscally-sponsored affiliate of InterMusic SF, a not-for-profit organization dedicated to small-ensemble music in the San Francisco Bay Area.
To make a tax-deductible donation to Bertamo Trio, please click here.